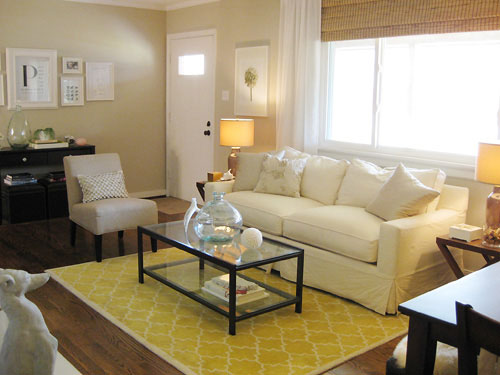 Photo of Young House Love's John and Sherry's gorgeous living room!

In the midst of searching for a rental home, I am dreaming of a future (hopefully not too long) down the road where I'll slowly be able to purchase new furniture and actually decorate our home. The past two years the hubby and I have been living in a very old, very neglected apartment in a converted 100 year-old-home. I graduated a year ago and the hubby just graduated this May. In the past two years while living here the only furniture we have purchased are a cheap kitchen island (bought with housewarming gift cards) and two ugly bedside tables we got in a yardsale for $10. Our apartment is a hideous mismatch of hand-me-down furniture and bachelor style pieces my husband purchased from Goodwill before we even met. Nearly half of the furniture pieces we do have are broken. I've never had the opportunity to buy furniture or even really decorate a room. I find that I am drawn to a couple different visual styles and I'm afraid I won't be able to decide on a cohesive decorating style when I am finally able to indulge in decorating.
One of my dream furniture pieces found by Rachel of Smile and Wave.
There is a huge part of me that has the urge to decorate everything in florals and sweet candy colors, but I know that outside my studio and kitchen, my husband would never let me indulge in this girly style (and honestly, I'm not sure I would want to let myself either). I also enjoy the clean, modern, nature-inspired look from folks like John and Sherry of
Young House Love
. I think I could please my husband with a simple, understated style along these lines but part of me craves a bit more character and whimsy. This is where the trouble comes in. I've seen so many homes featured on blogs like
Design*Sponge
and
Apartment Therapy
that I've loved that I can't even pinpoint what I'd like for myself and my home. I am set on mixing new and vintage pieces in our home to create a unique look (and also to save money by buying used). I really love the look of mid-century pieces mixed in with inexpensive new furniture with simple, clean lines. I think I'll probably bring in some whimsy via accessories and art, that way I can change things around without breaking the bank if we ever decide to go for a different look.
I love the whimsy and vintage vibe of this workspace of Liz of say YES! to hoboken.


I do have a general idea in my head of how I'd like to style my home, but I'd like to start an inspiration folder on my computer to keep an extensive inspiration resource at my fingertips.
So, I'm hoping you all will be willing to share some of your favorite home decor blogs with me, and/or share photos of some of your favorite spaces!
I'm definitely most interested in spaces that are welcoming and cozy with a bit of whimsy. I'd really love to see spaces that blend vintage and new pieces beautifully and make use of budget-friendly resources such as Target and Ikea. Thanks so much! I look forward to seeing all your favorites!