After seeing
Freckle Chick
's
closet makeover
at
Adventures in Renovating a Brooklyn Limestone
, I have been dreaming of pretty closets. I thought I'd post some of the prettiest and most practical closets from some of my favorite bloggers as well as some professionally styled closet inspirations. With spring cleaning on all our minds, I think closets are a great place to focus. Behind closed doors--out of sight, out of mind--our closets are often anything but glamorous. As these closets show, a clean, organized closet can be one of the most cheerful and inspiring corners of one's home.
The first two photos are from
Making it Lovely
's Nicole Balch. Nicole uses a freestanding wardrobe from IKEA to organize all her clothes and accessories.
I really love Nicole uses interesting knick-knacks and display pieces to organize and show off her jewelry.
All of her clothes and shoes are neatly and attractively displayed. While very full, the wardrobe is neat and everything is visible and easy to find. I love this inspiration for those who don't have a typical built-in closet to work with. See more photos and read more about Nicole's wardrobe
here
.
Next are two photos from
Freckle Chick
's
closet makeover
. What I find most inspiring about this closet is how well the space is utilized.
Clothes are neatly hung on the bar to the left, a simple bookcase is brought in to organize and display a gorgeous shoe collection, and a shelf above the bar helps to utilize height for storing purses and other items.
I am crazy about the beautiful display of jewelry and accessories and that fabulous little mirror! Freckles Chick added style and organization to her small closet for under $100. I really admire the way she was able to transform her lackluster closet into a really chic, practical space. This is a very attainable inspiration for those of us who don't have hundreds of dollars to spend on fancy closet systems. See more photos and read more about the makeover
here
.
Ladies, get ready to be totally and utterly jealous!
Lola B
's Kasey has transformed a small room in her gorgeous home into her own little boudoir.
I love the separation and definiion of space. This space really feels like a trendy little boutique!
I am crazy about the bright light streaming through the window. The room is so sunny and inspiring. I would love to get dressed every morning in this space! I adore the use of dressers in this closet space and the table in the middle of the room is beautiful and incredibly practical for folding and putting away clean laundry. I really love when form and function meet. Click
here
to see more of Kasey's fabulous closet.
Lastly, for those with space and money to spare, the
Elfa
closet systems from
The Container Store
are a real dream come true! I admire how many different organization solutions these systems offer. There are racks for hanging garments, pull out drawers for folded pieces and intimates, and beautiful boxes for small or out of season items. I am totally a sucker for the way these closet systems are styled with a focus on a single color. I tend to gravitate to the same colors and I think there is something so chic and whimsical about a closet filled with similar-hued fashions.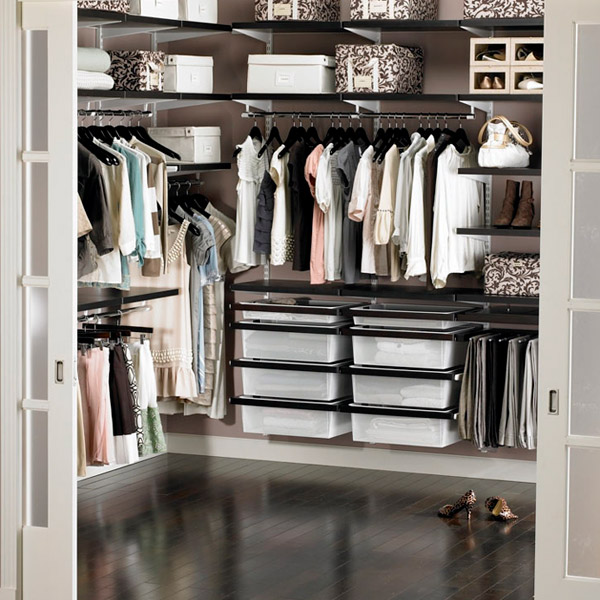 These systems offer a really sophisticated way to organize one's wardrobe. Different finishes are available, but I am most fond of this beautiful walnut finish. It looks so rich and luxurious.
I think having a closet this beautiful would be all the inspiration I would need to stay on top of laundry and keep everything pressed and perfect. I could spend all day in such a beautiful space.
I am really drawn to how decluttered these closets look. I like that they aren't filled to the brim. Each and every item of clothing looks expensive and fabulous. With room to breath, these clothes look crisp and clean. With everything in a similar palette, it would be easy to imagine countless different ways to pair outfits together.
These inspirations have me dreaming of making over my closet. My current closet is a dark, unfinished cave. It is anything but glamorous and, aside from tearing the whole thing out and starting over, there is no way to make it feel spacious and inspiring. The hubby and I will be moving sometime in the near future and I look forward to the possibility of having a little more space to utilize. I think one of the best investments you can make when adding some glam to your closet is to invest in matching (wooden) hangers. Sturdy, matching hangers instantly make a closet look more sophisticated and expensive. Utilizing containers, shelves and other storage solutions will make the most of a space and keep everything tidy and organized. And to best utilize a small space, think vertically!