Ever since I saw these
Ultimate Chocolate Cupcakes
on
Pink Parsley
last month, they have been on my mind almost nonstop. I intended to make them soon after I saw the post, but being so busy lately, time got away from me and I have still yet to make them. The recipe comes from Cook's Illustrated, so you know it has to be amazing. An intensely chocolaty cake is baked with a dollop of ganache filling. The cupcakes are then topped with creamy chocolate frosting. I am determined to make these soon!
There always seem to be a million cupcakes and other recipes on my list of things to try but I never seem to find the time or purpose to bake as much as my heart desires. Now that my hubby is starting a new job in a few weeks, I'm already dreaming up all the things I can bake for his future coworkers. (As silly as it is, one of my first questions for my hubby about his new job was whether or not I could bake cupcakes for his coworkers.) So, with more baking in my future, I thought I'd share a few of the cupcakes I've seen around the interwebs lately that have caught my eye and been added to my long list of recipes to try.
These
Oreo Cupcakes
from
My Baking Addiction
are made from a "doctored cake mix" and are topped with a buttercream frosting filled with crushed Oreos. Now, I usually shy away from using cake mixes, but since these
Snickerdoodle Cupcakes
were so fabulous, I figure I'll give these
Too Much Chocolate Cake
cupcakes a try. And from the chocolate pudding mix, sour cream and chocolate chips in the batter, I have a feeling they'll be intensely chocolaty and very moist! Plus I'm very curious to try the buttercream recipe which My Baking Addiction says is her favorite. While I have always gone with all butter in my frostings previously, lately I've really been wanting to experiment with using a bit of shortening to create frostings that are more stable at room temperature. I'd top these Oreo Cupcakes with Mini Oreos. I'm definitely curious to try these out as soon as possible.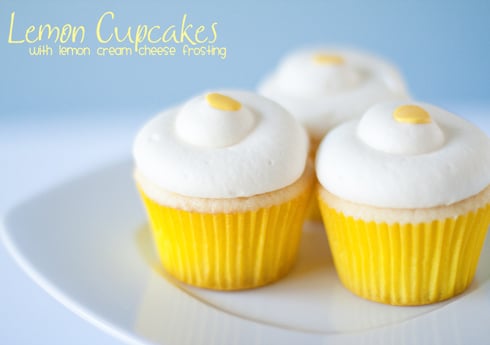 These
Lemon Cupcakes
(also from My Baking Addiction), while so simple in their decoration, are some of the cutest cupcakes I've seen around lately! Something about the sunny yellow baking cups and the single yellow sprinkle atop a creamy swirl of frosting is perfection. I'm going to have to get my hands on some lemon extract to try these, though I might make a few adjustments and create an orange version first, since I have plenty of orange extract in my pantry. After the
Lemon Mascarpone Macarons
I made recently, I'm dreaming of all the different lemon/mascarpone and lemon/cream cheese combinations I can think of. I love tart desserts!
I saw these
Crème Brulee Cupcakes
at
Bakers Royale
yesterday and immediately thought they were genius! I think these would be a great finale for a summer dinner party--classic but playful. I imagine the crème brulee centers of the cupcakes would a perfect creamy contrast to the crumb of the cake. Bakers Royale used Magnolia Bakery's Chocolate Cupcake recipe as the base of these cupcakes, which reminded me that I have been meaning to give their recipe a try.
These last cupcakes aren't technically cupcakes, but they sure are cute! Miniature Reese's Cups have been frosted and decorated and pass as some seriously adorable little cupcakes.
Confessions of a Cookbook Queen
uses them as
cupcake toppers
and they sure are whimsical and cute!